Considering my original plans for summer school never worked out I find myself with an extensive amount of free time so, of course, I picked up a new hobby.
This is something that you probably know about if you are friends with me on facebook!
I read up during the last semester of school on how to decorate cookies. I love how you can order gourmet cookies in almost any shape and and decorated to perfection! It fascinates me and I've watched many videos. So I finally got the courage to buy everything and try it out.
Here was a picture of the first batch I ever tried.. It was before I tried glazing/flooding, so all I practiced was piping.
he second batch. This was the first time I tried glazing and made the glazes way too watery so in some of the icings, the shortening separated from the icing. :( But the flowers turned out great(Well, they turned out better than the first)!
The third batch was for my lovely boyfriend! Some of them didn't turn out how I had imagined, but he still thought they were delicious regardless. This was also the same day I made a scrapbook arrangement I saw while browsing graftgawker.
And my fifth batch was the first time I ever made chocolate chip cookies from scratch. I did decorate them but I forgot to snap a picture of them before I transported them to one of my best friends good bye party!
And my most recent batch of cookies were ones that my nieces, who are 8 and 10, helped me decorate. My boyfriend and some friends were over too, but the girls did most of the decorating.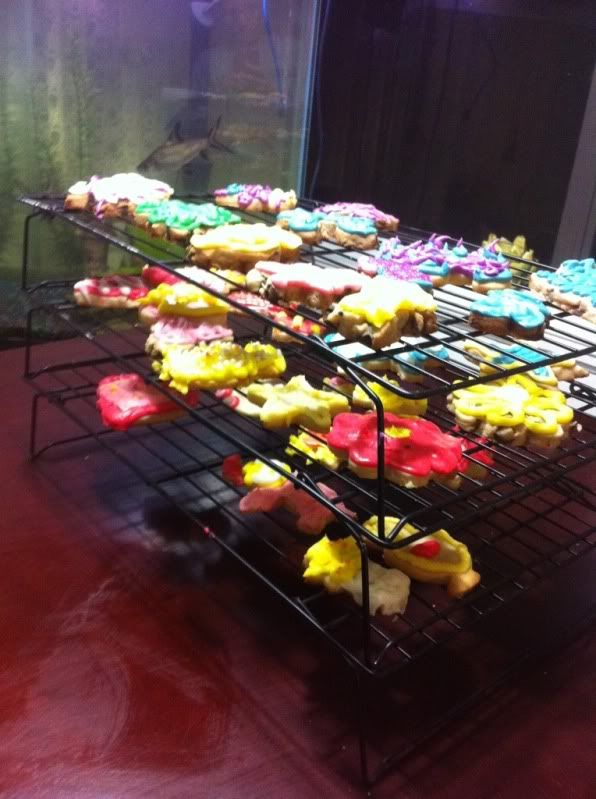 And my most recent baking endeavor was last night! My boyfriend and I attempted to make rainbow cake in a jar. The process of making it was definitely fun and could be a project you do with multiple people considering one box of cake mix makes three jars, it was definitely a fun experience!